The Olive Tap in West Palm Beach, Florida, was the fifrthaddition to The Olive Tap family of stores and one of the first Extra Virgin Olive Oil & Balsamic Vinegar Tasting Emporium in Southeast Florida! As with all of The Olive Taps, at CityPlace you can browse and sample all of our 100% EVOOs, Flavored Oils and Balsamic Vinegars. Once you have made your selection, our staff will bottle, cork and seal your selection right on the spot!
The Olive Tap is located in CityPlace, one of the leading visitor destinations in Palm Beach County, and is in the heart of downtown West Palm Beach. With its dancing water fountains and European flair, CityPlace is a great destination to bring the family, take a stroll, eat, shop, and enjoy the beautiful weather South Florida has to offer. Within 5 miles of Palm Beach International Airport, there are plenty of reasons why CityPlace is the most exciting destination for shopping, dining and entertainment.
The Olive Tap is conveniently located 2 miles east of I-95. From I-95, exit at Okeechobee Rd and follow the signs towards CityPlace. From the Florida Turnpike, take Exit 99 and head east. The Olive Tap is located on the corner of Rosemary Ave and Hibiscus right next to the Cheesecake Factory. Valet and garage parking is available. The Olive Tap looks forward to seeing you at our latest location!
PLEASE NOTE: Product selection and availability varies across our retail locations. Please call the store directly to confirm specific product availability.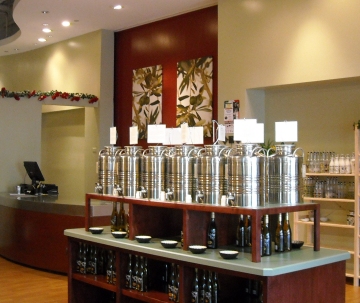 The Olive Tap, West Palm Beach
Hours of Operation:
Monday - Wednesday 11:00 a.m. – 8:00 p.m. Thursday 11:00 a.m. – 9:00 p.m.
Friday & Saturday 11:00 a.m. – 10:00 p.m. Sunday 12:00 – 6:00 p.m.
Hours are subject to change during the holidays!