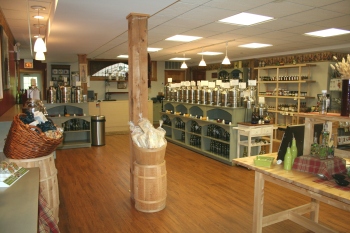 The Olive Tap® in Long Grove is our flagship location serving the north and northwest suburban Chicago area.
Long Grove, 35 miles northwest of Chicago, Illinois, is a little off the beaten path, but it's a vital shopping district with historic buildings dating to the early 1800s. The summer season brings thousands of visitors for well-established festivals, but the stores, art galleries, and restaurants are open all year.
From one historic building to another...
We are located in the old Creamery, originally built in 1879, just south of the Mill Pond Shops. It is a long white building nestled between The Artistic Gardener and the Long Grove Confectionery. There is an entrance on Robert Parker Coffin Road, and a wheelchair accessible ramp adjacent to the walkway between us and the Confectionery. Find convenient parking in the Archer parking lot or next door in front of the Artistic Gardener Shop.
PLEASE NOTE: Product selection and availability varies across our retail locations. Please call the store directly to confirm specific product availability.